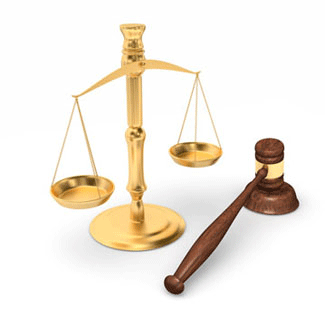 Baby Powder Asbestos Cancer Trial Falls One Juror Short
Two-thirds of the jury found Johnson & Johnson liable for allowing asbestos to contaminate their talc supply
Wednesday, September 19, 2018 - For the second time in as many weeks, a California jury was unable to come to a verdict resulting in a mistrial for Johson's Baby Powder maker Johnson & Johnson. 74-year old Kirk Von Salzen, a former computer salesman, had sought $12 million in damages alleging that his lifelong use of Johnson's Baby Powder contributed to his mesothelioma, a form of lung cancer associated with inhaling asbestos particles. The final vote of 8-4 for the plaintiff fell one vote short of the 9 needed for victory. Lawyers for Salzen are looking forward to retrying the case and summed up the trial afterwards "I'm satisfied with eight of 12 jurors seeing the evidence for what it was that Johnson & Johnson was callous with some safety protocols that led to the allowance of asbestos in their talc products, which caused Mr. Von Salzen's disease." There are over 10,000 cancer sufferers, waiting their turn to hold Johnson & Johnson accountable for their negligence. This is the second case that was rushed to court in California to take advantage of a state law that allows a plaintiff to move to the front of the line if they are so ill that they are expected to live less than a year.
Successful lawsuits against Johnson & Johnson that alleged asbestos contaminated the Johnson & Johnson talc supply were held in Missouri and New Jersey, Johnson & Johnson's home state and have spurred plaintiff's hopes of receiving monetary compensation for their illness as well as for the pain and suffering they have been forced to endure. Most recently 22 women sued Johnson & Johnson in a St. Louis Missouri court claiming that asbestos-contaminated talc in Johnson's Baby Powder caused their ovarian cancer and was awarded a total of $4.69 billion. The jury's verdict is currently under appeal.
In another trial jurors in New Jersey found that asbestos in Johnson's Baby Powder contributed to Stephen Lanzo, a New Jersey banker's mesothelioma. Lanzo was awarded $30 million in compensatory damages and $87 million in punitive damages. The plaintiff had used Johnson's Baby Powder and Shower to Shower products containing talc after showering for most of his life.
Each of the cases against JNJ so far has been similar in that they accuse the company of not only using asbestos-contaminated talc but also of knowing they were doing so and failing to warn consumers. Internal company memos that have been presented at trial imply that the company knew their talc contained asbestos. Scientific expert witnesses for the plaintiffs have tested bottles of Johnson's Baby Powder and have found traces of asbestos. The National Institute of Health published a report years ago that stated they had found asbestos in talc. "findings of silica minerals in samples of commercial body powders and that inhaled powder could cause scarring of lung tissue, mesothelioma or lung cancer. JNJ confirmed this when they placed the warning label on bottles of Baby Powder that state: "Keep powder away from child's face to avoid inhalation which can cause breathing problems. Avoid contact with the eyes. For external use only." Talcum powder lawyers can provide more information in regards to your rights and to see if you qualify for a claim.
Information provided by TalcumPowderCancerLawsuit.com, a website devoted to providing news about talcum powder ovarian cancer lawsuits, as well as medical research and findings.